Italy is the land of croissants (after France, of course) or "brioche" as they call them in my region, and although they are beyond delicious sometimes a gal just needs a little variety.  So, last weekend I attempted to make my first homemade scone, with a twist of course.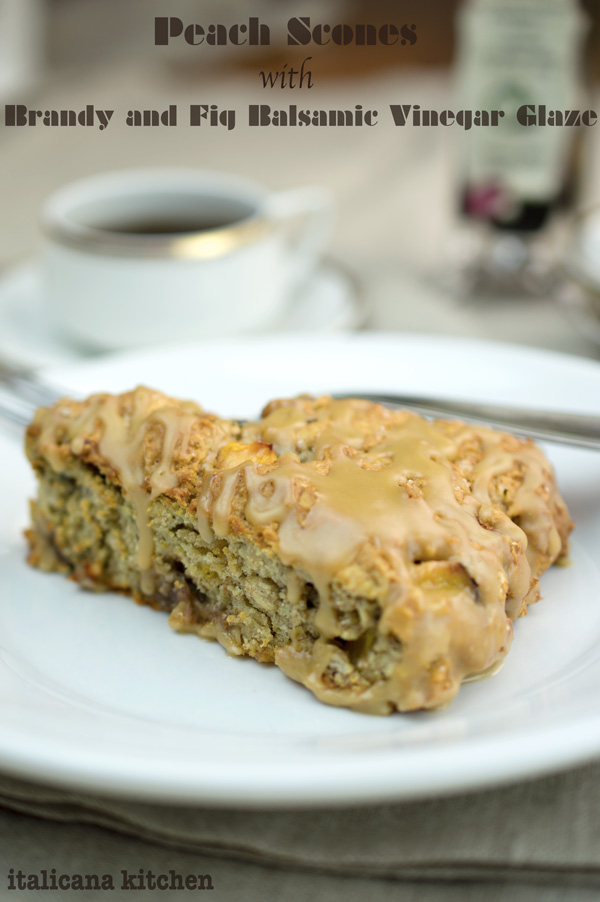 I wanted to give this classic English dessert, that is enormously popular also in America, an Italian flair by using
Fig Condiment
to create a creamy
glaze: glassa
to drizzle over these freshly baked peach scones.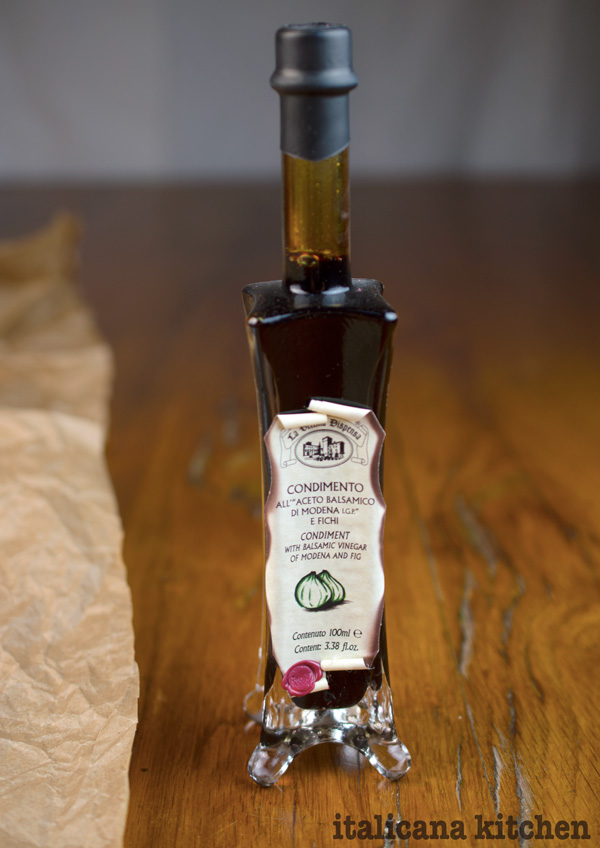 Oh, how I relish
peaches: pesche
and their summer sweet smell, soft fuzzy skin and glorious fresh flavor that bursts in your mouth with every bite. Couple that with brandy's tangy raison taste and sweet natural fig balsamic vinegar that warmly coats your tongue like when you immerse yourself in a bath after a day out in the snow, enveloping your senses in pure pleasure and relax.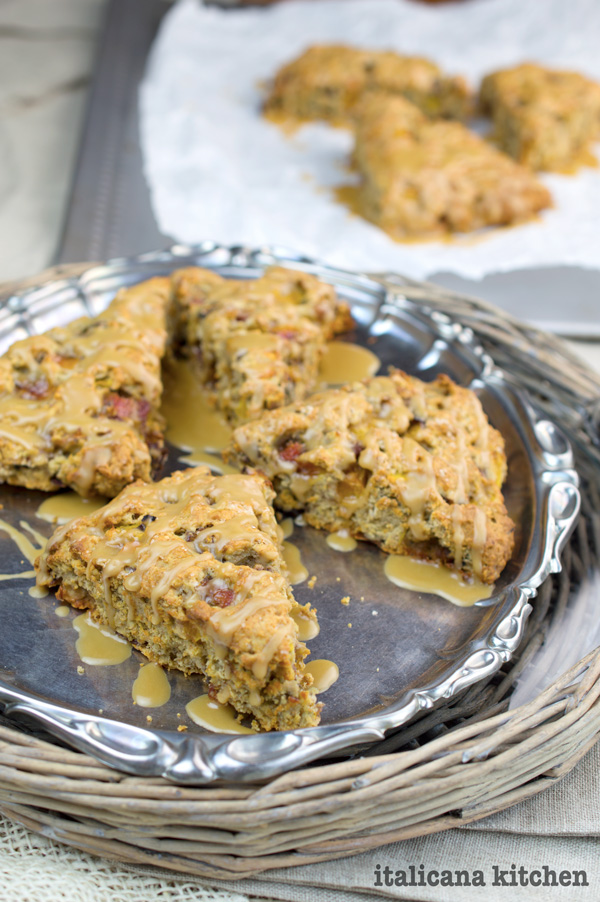 These scones are also healthier than traditional recipes as they are made with whole wheat and kamut flours and there is less
butter: burro.
This is my third attempt on this recipe because I wanted to make sure I got it just right, and I have to humbly say, that it is a winner.  When you bite into one of these golden peach scones with brandy and fig balsamic vinegar glaze you get a taste of Italian summer love.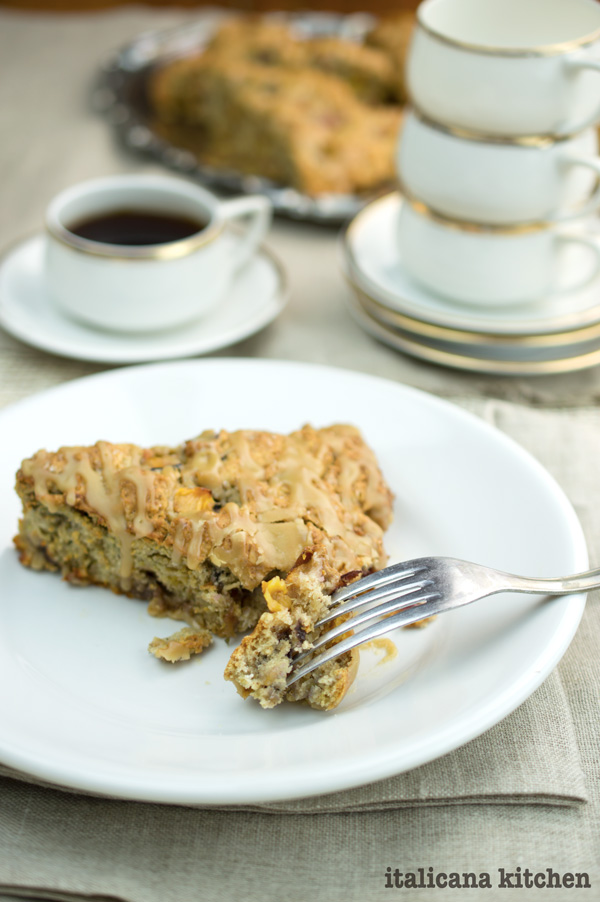 Peach Scones with Brandy and Fig Balsamic Vinegar Glaze
Prep Time: 15 minutesCook Time: 30 minutesTotal Time: 45 minutes
Yield: 8 scones
These peach scones with brandy and fig balsamic vinegar glaze are like an Italian summer love.
Ingredients
2 peaches, skin removed and diced into small pieces
1 tablespoon Fig Condiment  *(see note below)
1/2 cup (118ml) soy milk
1/2 tablespoon (7.4ml) white wine vinegar or lemon juice
1 cup (130g) whole wheat flour
1 cup (143g) kamut flour
1/2 cup (55g) rolled oats
2 teaspoons (8g) baking powder
1/2  teaspoon (3g) baking soda
3/4  teaspoon (3g) sea salt
1/2 teaspoon (1.4g) ground cinnamon
3 tablespoons (48g) raw cane sugar (turbinado sugar)
4 tablespoons (56g) cold butter, diced
Raw cane sugar
For the glaze:
1/2 cup (80g) powdered sugar
1 teaspoon Fig Condiment  *(see note below)
1/2-1 teaspoon brandy
1 teaspoon water
Directions
For the scones:
Preheat oven to 375°F. Line a baking sheet with a silpat or parchment paper.In a medium sauce pan add the peaches and fig balsamic vinegar condiment. Cook over medium heat until the vinegar has reduced and thickened, about 10-15 minutes. Set aside.In the meantime, measure out the soy milk and add the white wine vinegar or lemon juice in a small bowl. Set aside for 5 minutes.In a large bowl, combine the flours, oats, baking powder, baking soda, sea salt, cinnamon and cane sugar; mix.Cut the butter into the bowl and use a pastry cutter to mix together (or a knife if you don't have one) until the butter is chopped into fine pieces and mixed well with the flour mixture.Spoon in the peaches, leaving the extra balsamic vinegar in the saucepan. Set the pan aside.Add the soy milk mixture to the dry ingredients and mix well with a spatula then knead together for 5-6 times. The dough will be really sticky but don't add more flour.Put the dough in the middle of the prepared baking sheet and form a circle that is about 1-inch high. With a wet knife, cut 8 slices. Keep wetting the knife as necessary so the dough doesn't stick. Leave the slices touching each other.Sprinkle raw cane sugar on top.Bake for 20 minutes then take them out. Using a knife, separate the slices and space them apart on the baking sheet.Cook for another 5-10 minutes until golden brown. Let cool completely otherwise they will crumble when you try to pick them up.
For the glaze:
Add the powder sugar to the saucepan used to cook the peaches. Add the balsamic vinegar, brandy and water. Stir well. Adjust the taste and consistency by adding more liquid or powdered sugar. Drizzle over the cooled scones and let cool so the glaze slightly hardens, about 10 minutes. Buon appetito!*You can also use regular balsamic vinegar; I highly recommend using a good one, because the quality definitely makes a difference.